WebRecorder - internet macros for Macro Scheduler
Script Web Applications & Record Internet Macros in Minutes
No Advanced Programming Skills Required
Easier Script Maintenance
Huge ROI
WebRecorder makes it easy to create Macro Scheduler internet macros and Scripts to automate web activity and web based applications. Many organisations are moving towards thin client front ends to their ERP systems using web clients (e.g. Internet Explorer) as the interface to their applications. Automating and testing such environments requires a different approach to automating traditional Windows GUIs due to their more dynamic nature and non-absolute positioning of GUI objects.
It is possible to write VBScript code to create Internet Explorer Macros. However there are limitations with this approach due to cross site scripting issues and accessing frame objects. More importantly the experience and time required to build and maintain such scripts is costly.
MacroScript WebRecorder solves this problem and creates internet macros by recording web activity and creating robust Macro Scheduler scripts which circumvent the issues surrounding VBScript IE automation. WebRecorder removes the need for in depth programming skills, allows web based applications to be scripted in minutes rather than days and makes it easy to recreate scripts should the environment change.
WebRecorder also solves the issues inherent in automating at the GUI level by working with Internet Explorer's Document Object Model rather than by simulating user input.
Enterprise Automation
Many companies now run systems which use a web browser as their interface. This is the era of the hosted application, so many business apps are moving online (either on the Internet or Intranet) and the user's interface is actually a web browser. So if you want to automate a part of that system you need to automate the web browser. WebRecorder lets you create Internet Explorer Macros - clicking on links and buttons and filling in form fields etc thus allowing web based enterprise systems to be automated.
Business Intelligence
A mortgage broker checks the websites of his competitors every morning to see the rates they are offering. He used to manually copy the rate information from each competitor website and paste it into an Excel file so that he can do calculations and work out what rate he should offer. Now he uses WebRecorder to automatically connect to the competitor websites, enter in a fictitious search (area, house type, mortgage type, purchase price etc) and then extract the resultant rate data and save into Excel. The script now runs automatically every morning, gathering data from dozens of competitor websites.
Data Gathering
One of our customers manages a hedge fund. Every morning they get various reports from their partners with all the latest stock symbol data. These come from different sources. It would be nice and convenient if every provider gave them an FTP login and data in the same format. Of course this doesn't happen in the real world - each one is different. Some of them come via a website they have to log into. They open their browser, go to a URL, enter a username/password and then select from various reporting options and then download the report. A laborious manual process. WebRecorder allows them to automate all this.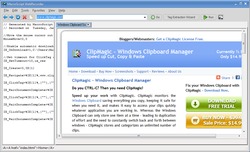 Testimonials
I use Macro Scheduler and Webrecorder to gather market intelligence data from my competitors multiple times a day. I have been very impressed with both products and the customer support! The responses I have received, help from the support forums and from the staff of the company has been excellent and timely. Several days ago, I had a scripting issue and I sent an email to the support department. I not only received an email back, but I also received a telephone call from the office in London to my office in Dallas! I also received "live" support on MY computer via the internet. My problem was solved in a couple of minutes and the support was free! Thanks MJT Net Support Team for the excellent service!
Randy Bass, Dallas, Texas
Features
Record clicks, navs and form fills
Record/script file downloads
Extract data from web pages
Script function library
Runs code in Macro Scheduler (mix and match with Macro Scheduler functions and interface web automation with desktop automation)